Welcome to Montgomery Militaria.
I deal in original historical military artifacts dating from the Georgian period through to the end of WW2 - specifically British, German, American, Indian and Japanese items.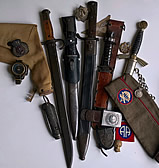 My passion for collecting militaria originated as a child during the 1970's when I would spend many an hour searching through my Fathers antique emporium. This passion has now enabled me to start my own online business. .
All items are 100% genuine which carry a money back guarantee so please take a look with confidence and feel free to ask any questions.
This website is for historicaland investment purposes only and does not represent any political view.